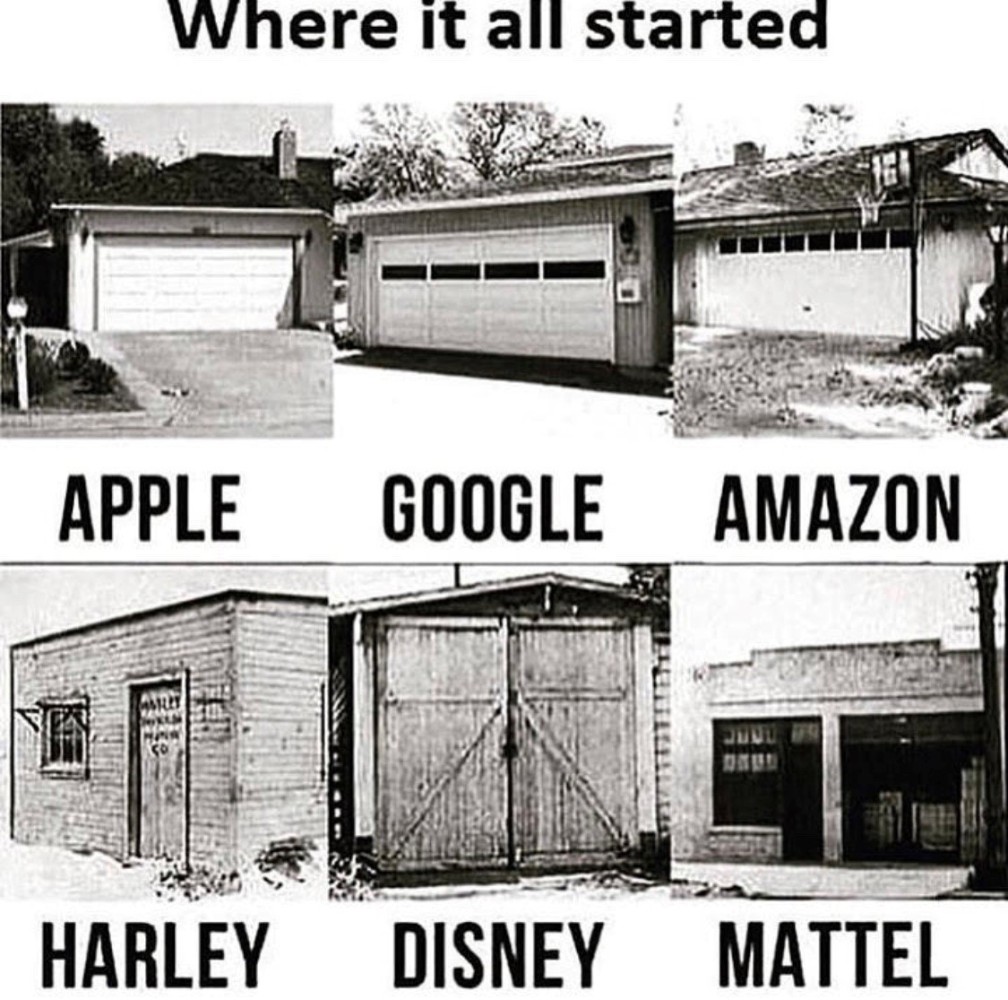 Some of you have seen this photo before and some of you have not. I saw this photo on social media recently and so many things flooded my mind, specifically the fact that this is exactly how I started Slyder Pumps. My company might be much smaller than Apple or Google, but a garage was my workshop for the first 3 years and it instilled in me many life lessons I still reflect on today as a CEO/Founder.
Most people do not know that I started Slyder Pumps when I had $124 dollars to my name. After filing my own LLC paperwork (I couldn't afford an attorney) for $104, I had $20 to put fuel in my truck and head to my first job. I operated in my garage and the back of my truck for the first 4 years of business. In 2015, I had saved enough cash to build my own manufacturing facility, and focus on complete, in-house manufacturing capabilities.
Today, I am more than happy to share that Slyder Pumps is the only company offering design, manufacturing, sale, and service of horizontal pump systems (HPS), Sucker Rod Pumps (SRP), and single stage ANSI pumps that is not publicly traded or backed by an equity company – a proud accomplishment of mine.
"People commonly think that being your own boss is rewarding and you get to "do whatever you want". While that's partially true, being CEO of my company has been a tough road."

Frank Williams, Slyder Pumps CEO

Below, I've put together some advice for my fellow entrepreneurs who are thinking of taking that leap. Maybe you have researched and found all the "good" things that come from having your own business, but also want to hear some of the "hard" or "bad" things. Here are 6 takeaways that I have learned solely through my own experience.
Having Your Own Business is Hard Work
You're a business owner and work cannot be left at the door at the end of the day. The weight of your business stays with you, it follows you around, and wakes you up in the middle of the night. The constant stress and pressure that it brings is distracting and inescapable. When the going gets tough, everyone within your company will turn to you for leadership, guidance, and the RIGHT answers.
You will have to sacrifice time with your family in order to take care of your customers or finish a job that someone else could not. You'll watch your friends, their families, and even your own family do things that you cannot be a part of. You will miss events, birthdays, and holidays. You will have to experience your loved one's major life events through photos, videos, and FaceTime. Explaining to your children why you're not able to be there and have to make these huge sacrifices will be hard, but stay strong.
You Will Have to be Your Biggest Motivator
You will undoubtedly have more people that don't believe in you than people who do – Don't take it personal. That's just the reality of it. Do not get discouraged when you must be your own biggest fan. Most people never see the big picture; they see materialistic things in front of them, and not the sacrifices that were made to get those things. There will be employees, customers, and vendors that take advantage of you, but you must keep pressing forward. When the going gets tough, stay true to your goals. Stay firm and disciplined in your reactions. The one person that needs to believe in you has to be the person in the mirror. If you take things personally, you will not move forward.
Your Word is All You Have
If you shake his or her hand in an agreement, make sure you deliver what was agreed upon no matter what. Your reputation is and always will be worth more than making money. You will make mistakes and you must own them. Your character is not for sale, ever.
Be Patient in All Aspects
Listen to your employees, customers, and colleagues. It doesn't mean you do everything they say, but show them that you care by listening to their concerns and making changes as needed. In order for your company to grow, it has to adapt to unexpected curve-balls thrown, and sometimes, it must change course. As the business owner, your guidance and leadership will have to adapt and change too. Embrace good change and try to look at the new opportunities that will arise because of it.
Find Your Purpose and Let it Drive You
Everyone has a purpose and something that drives them. For me, my purpose behind maintaining a successful business has always been my family. What keeps you leaving before sun-up and coming back long after sun-down will be different than the next person, and that is the beauty of purpose.
To my fellow business owners and entrepreneurs – I wish you all of the success in the world. The road to success is not easy, but embrace it, it's YOUR road. Owning and operating your own business is sure to be a wild ride! Good luck.